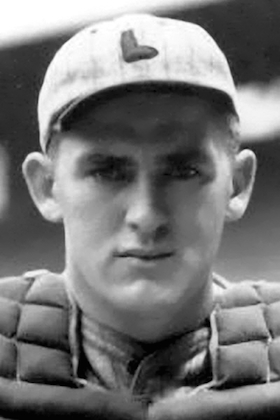 Ed Connolly was not a switch-hitter, but it appears he made a switch in his hitting. When he first signed with the Boston Red Sox in 1928, he was a left-handed batter but at some point he switched over to hit from the right side.
Connolly, a catcher, was a Brooklyn native who'd previously played for the semipro Bushwicks. His father, Hugh Connolly, had come to the United States from Ireland around 1873, and worked as a machinist in a garage. His mother, Nellie (Ellen Reagan), was born in Pittsburgh of two Irish-born parents. Ed was born on July 17, 1908. He attended Holy Cross elementary for eight years and then four years at Brooklyn Preparatory School.
The 19-year-old Ed was signed by the Red Sox and traveled to spring training with them in 1928. Both he and coach Heinie Wagner, along with pitchers Bob Cremins and Pat Simmons, boarded the train from Boston as it passed through New York on its way to Bradenton. Connolly had four baseball bats strapped to his back when he met team owner Bob Quinn and manager Bill Carrigan (himself a former catcher for the Red Sox) in the station. "What are those for?" he was asked. Connolly's reply: "To hit with, and I can smack 'em."1
In an early dispatch from spring training, Connolly was described as "beautifully built … [with] a fine pair of shoulders and all the size that is needed."2 He was 5-feet-8 and listed at 180 pounds.
On March 31 Connolly was optioned to the Eastern League team in Pittsfield, Massachusetts, and was sent back to Boston along with several other players to work out at Fenway Park under the helpful eye of Shano Collins, manager of the Pittsfield Hillies. Connolly was Collins's primary catcher for two seasons for the Hillies, 84 games in 1928 and 108 games in 1929. He hit well for a catcher of the era, batting .278 and .268 respectively, and he was apparently rated an excellent receiver. He went to the big-league spring-training camp in 1929, as well, with the same result – sent to Pittsfield.
Sports editor Albert W. Keane of the Hartford Courant said he would have selected Connolly as the second-best catcher in the Eastern League in 1929, an understudy for All-Star status.3 Connolly was one of five players called up from Pittsfield in early September. He joined the Red Sox and appeared in five games, debuting on September 20 and throwing out a baserunner in his first inning. He collected eight at-bats over the five games but nary a hit.
In spring training 1930, under incoming Red Sox manager Heinie Wagner, Connolly began to hit from the other side of the plate. "I was a left-handed hitter when I started playing ball in school, and my coach made me hit right-handed," Connolly told his manager. "He said I would never get to the major leagues as a left-handed hitting catcher, that the big leagues wanted catchers who batted right-handed."
Wagner told the 21-year-old backstop, "He was wrong. … The big leaguers want catchers who can hit, and they don't care whether they bat right-handed or left-handed. Go back to hitting left-handed."4
From .000 in 1929, there was really only one way to go – up. Whichever way Connolly hit (the record books don't acknowledge the probability that he switched to the other side of the plate after his first year), he did hit better. In 48 at-bats, he made nine hits (.188), including a couple of doubles and knocked in seven runs. He was the team's third-string catcher, appearing in only six games through July but then in 21 games in August and September.
In '31 Connolly got almost twice as many at-bats but had fewer hits; his average in his 42 games was but .075, surely one of the lowest for a player with 93 at-bats. Connolly never saw much duty – the most time he saw was during the nadir of the Red Sox in 1932, when the team won only 43 games all season. Connolly played more than ever (75 games), hit .225, and drove in 21 runs that year – his last in the major leagues – but his career mark was just .178. He never hit a home run. He drove in 31 runs lifetime. He wasn't all that good a fielding catcher at the major-league level, with 16 errors in 468 chances for a fielding average of .966.
The Red Sox were under new ownership – Tom Yawkey – in 1933. Connolly trained with the team in the springtime once more, and was heading north on the team train when there was a wreck in Delaware, killing the train's engineer and the fireman. Connolly and manager Marty McManus were singled out among the Red Sox for coming to the aid of passengers, carrying an injured woman to the team's trainer for treatment.5 On April 4 he was released to Jersey City, but he spent the season playing for four teams – Jersey City, Kansas City, Galveston, and Reading – before retiring in 1934. Somehow Connolly also found time to enjoy a June wedding in 1933, marrying Dorothea Martha Martin on June 13, and then heading on to report to Galveston.
He was a tough one. In a Texas League game, he was knocked down by a young prospect for the Indians. He warned him not to do that again, and the pitcher threw another close one, whereupon, in the words of writer Jimmy Murphy, Ed "strode out to the mound and hit him flush on the chops and dropped him cold."6
Late in 1963, Ed Connolly died at 55 of a heart attack, in Pittsfield, Massachusetts, the town where he began his career. He was employed by the Massachusetts Department of Natural Resources at the time of his death.
Had he lived just six months longer, he would have seen Ed Junior begin his career with the Red Sox. Junior had been born in 1939 so he never had seen his dad play, either, even when a toddler. Junior was born in Brooklyn, too, and he was a left-handed pitcher – though not the best of pitchers. Were he and his father backyard batterymates, as Ed Junior grew and developed into a prospect himself? Sports columnist Murphy wrote that the elder Connolly "had groomed his son to be a big leaguer." Son Ed also passed through Reading, where Eddie Popowski was impressed with him and talked major-league manager Johnny Pesky into giving him a spring-training invite. Connolly was raised a Red Sox fan, so this was the fulfillment of a lifelong dream. He was 6-12 in two seasons in the majors.
Sources
In addition to the sources noted in this biography, the author also accessed Connolly's player file and player questionnaire from the National Baseball Hall of Fame, the Encyclopedia of Minor League Baseball, Retrosheet.org, Baseball-Reference.com, and the SABR Minor Leagues Database, accessed online at Baseball-Reference.com.
Notes